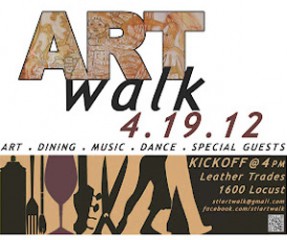 After six months of living and working together, the residents of Leather Trades Artist Lofts are showcasing their talent at the Downtown STL ARTwalk. They are opening their doors to the public and partnering with local businesses to celebrate Downtown St. Louis' vibrant art scene, food, shops and bustling nightlife.
On Thursday, April 19, the Downtown STL ARTwalk kicks off at 4 p.m. at 1600 Locust Street and continues into the evening.
The festivities at Leather Trades include art exhibits, dance, demonstrations and loft and studio tours. JENNuine Fire Studios is offering free, interactive fitness and circus skill classes and teaming up with STL Hoop Club and St. Louis Fire Technicians for street performances. In addition to all of these attractions, the Chop Shop sushi truck and the Sweet Divine cupcake truck will be parked outside serving food to go.
Before leaving Leather Trades, ARTwalk participants will be given a wristband and event guide and will follow a trail of street performers, musicians and exhibits along Washington Avenue. The shops, galleries, bars and restaurants along the route will feature art displays, demonstrations, music, and performances throughout the evening, as well as offer special savings for participants wearing the ARTwalk wristband.
Participants include Art Saint Louis, Caruso's Deli, Copia Restaurant and Wine Garden, Gelateria Tavolini, Jim Edmond's 15, Lola, Macro Sun, Phantom Gallery, Philip Slein Gallery, Smash Bar, The Dollhouse Studios, and The Washington Post.
What:  Downtown STL Art Walk
When: Thursday, April 19th starting at 4 PM
Where: Leather Trades on 1600 Locust, then walk to 11th St on Washington Ave
How much: FREE
Website: Event page facebook