Recently, we ran into a familiar face during the inaugural Downtown St. Louis ARTWalk. None other than Erin Laine Beckman was one of the artists whose work was highlighted at the Leather Trades Artists Lofts, starting point of the ARTWalk tour.  As frequent patrons of downtown's hip music lounge LOLA, we already knew Erin was one of downtown's best bartenders. She is now LOLA's special events director.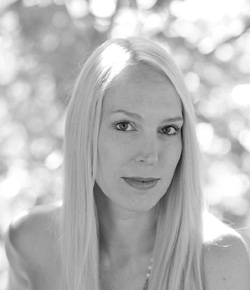 But when she's not working at her "day" job, you'll find Erin painting or photographing. That is when she's not playing the guitar and singing in the band Read Lemon or participating in group and charity shows, including five of the last six Tied2Art events.
Her current collections are focused on the urban landscape. Erin: "I find cities lush with order challenging chaos, and I find so much beauty in the detritus. As I watch the buildings get older and the neighborhoods get worse, crime goes up and occupying population goes down, there is a clear visual of how plans have succeeded or failed."
The same goes for inspiration, Erin finds: "The dilapidation of the city is a metaphor for the life we have created. Man made things are flawed and will die, just like man himself. However, as not to worship this ideal, I still find plenty of room for some cheeky social commentary about the urban social pedestals we are all striving to stand on."
"I'm working in multiple mediums for this series. Many of my pieces are oil on Masonite, some charcoal on Bristol, and mixed media on Masonite. The mixed media pieces are large-scale photos manipulated and digitally printed on large-scale paper. I then paint the images large pixels to keep the materialization of poor focus quality."
Erin enjoys working with heavy materials: "Canvas seems a little precious for the content, so I am finding Masonite to be the answer. It is a nice compliment of material versus subject matter and I find it lends a bulky construction to the pieces."
It was a pleasure to have this impromptu rendez-vous with one of those individuals that give downtown St. Louis its unique character. It's also an example of the feeling of community one can experience in this city's neighborhoods, in our case in downtown St. Louis.
Go see Erin at Lola one of these nights and say hello from us.
Who: Erin Laine Beckman
What: Multimedia Artist: Painter, Photographer, Musician
Where: If you're interested in purchasing one of her works, contact Erin Laine Beckman at (618) 791 5364
All of the above pieces are for sale.