Hotel Ignacio recently added a gorgeous new retro-style neon sign atop the building. We think it's one of the best new neons in downtown/midtown. If you have photos of  neon signs (old or new) and you don't mind sharing, please send it to info@countondowntown.com for an upcoming post about NEON, NEON, NEON.
Earlier story from April 2011 about Hotel Ignacio: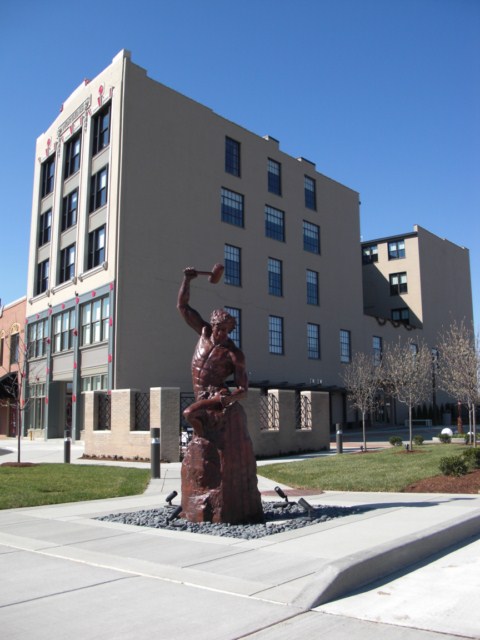 The man and the hotel: Ignacio
Another project made possible by historic tax credits, the long-awaited Hotel Ignacio, opened its doors at 3407 Olive Street. The hotel sits next door to developer Steve Smith's Triumph Grill, Motomuseum and motorcycle dealer/store MotoEuropa. A cooperation between The Lawrence Group and Saint Louis University, the project was completed at a cost of just over $ 16 million. The hotel will be managed by Equis, a division of Mullenix that runs several hotels in the St. Louis area.
The 51-room Ignacio in the 106-year old Morgens building is internally connected to Triumph Grille as is MotoEuropa on the north side.
Hotel Ignacio is yet another addition to the already hot Midtown Alley neighborhood. In just a few years several new offerings have been added in the immediate proximity. The earlier mentioned  Triumph Grill, Motomuseum and MotoEuropa are situated next door and the P.W. Shoe Lofts, including annex Field House Pub & Grill recently opened across Locust street. Just a couple of blocks east, the new Plush multi-level venue is slated to open this summer and a block north from there Urban Chestnut Brewery opened its doors a few months ago.
Maybe Hotel Ignacio and the KWMU St. Louis Public Radio building, soon to break ground just west of Grand, will be the catalysts for more development to come in the Grand Center /Midtown Alley neighborhoods.
PDF of project highlights for Hotel Ignacio.